As well as the Call Centre Ranking results below, ACXPA Members also have access to a range of additional insights, including all the monthly reports, trend data, additional performance metrics, a downloadable spreadsheet and lots more!
Banks August 2023 Mystery Shopping Results
Across a snapshot of selected banks, the overall banking sector performance was rated as 'poor' and was the lowest of all industry sectors.
The Mystery Shopping scenario used in August 2023 was based on a potential new customer (not a service complaint), so it was a new revenue-generating opportunity for the bank.
44% of all Mystery Shopping calls were unanswered within 10 minutes (the point at which we disconnect) with only two banks, CBA and NAB, answering 100% of the calls made.
We were unable to assess ANZ at all because we couldn't connect to them due to excessive delays and technical issues with their IVR (press 1 for this, 2 for that) that disconnected the callers.
Across the majority of banks assessed, customers are subjected to lengthy IVR menus, with CBA taking the longest to navigate at 1:53 minutes with Bendigo Bank the leader at 0:36 minutes.
Wait times averaged 4:42 minutes across all the banks with NAB leading the way with a 0:24 minutes wait time on average with ANZ the longest at 10:00 minutes (the maximum we wait for, so the actual result would be higher).
Bendigo Bank advised customers they had delays in excess of one hour; however did offer a call-back service.
The quality of customer interactions was rated as 'poor' across all banks, with CBA ranked the highest (55.8%) and NAB the lowest (31.3%).
Of the five competencies we assess quality on, the banks were rated 'poor' in four of the categories, with 'energy' their best result, still rated at 'below expectations'.
CBA was the only bank to achieve at least one 'Outstanding' quality rating for their 'Energy'.
Customers were subjected to lengthy navigation menus with up to five layers of options (Westpac & CBA) adding up to 01:53 minutes (CBA) to every call.
Whilst waiting to connect to a live agent, Westpac prompted customers to move to a digital channel significantly more than all other banks (67%).
Only two Banks (Bendigo Bank and Westpac) had their contact centre number easily available on their home page; however, all banks did make it easy to locate their call centre number on their 'Contact Us' page.
Banks August 2023 Key Results
The summary data for the last month Australian Councils call centre performance is below.
Average Score
Banks Average
#1 Ranked Call Centre
CBA
Lowest Ranked Call Centre
ANZ
Average Score
Banks Average
Quality Summary for August 2023
In addition to the challenges customers faced when trying to make contact with the banks, the quality of the customer interactions across the entire sector was rated as 'Poor'.
The lead performer for quality was CBA (55.8%) followed closely by ING Direct (54.4%) with NAB (31.3%) rated the lowest.
Banks struggled in all quality metrics, however, there were some standouts:

'Engage' top performer was NAB (45.8%)
'Discover' top performer was Bendigo Bank (66.7%)
'Educate' top performer was CBA (50.0%)
'Close' top performer was ING Direct (83.3%)
'Energy' top performer was CBA (91.7%)
*We were unable to assess ANZ at all as we were unable to get through to a live agent.
Average Score
Banks Average
Accessibility Summary August 2023
44% of all Mystery Shopping calls were not answered within 10 minutes and only two banks answered 100% of all the calls we made (CBA and NAB).
Across all our accessibility metrics, NAB was rated the highest (61.7%) with Westpac (1.3%) and ANZ (0%) all delivering frustrating experiences for customers.
ANZ was rated 0% as we either couldn't get through due to glitches with their IVR disconnecting the call, or the call wait time exceeding our cut-off threshold of 10 minutes.
Average wait times across the banks was 04:42 with NAB the shortest wait times (00:24 minutes) through to ANZ in excess of 10:00 minutes (the point at which we hang up). Bendigo Bank had the longest advised call wait of all banks of over 60 minutes, however, they did offer the customers the opportunity to use the call back service that enables them to hang up and receive a call when they reach the top of the queue.
Westpac was the only bank that was constantly trying to push customers to online channels (67%).
IVR Navigation can be quite painful for customers with the Commonwealth Bank and Westpac both having five layers of IVR options adding up to an average of 01:53 minutes to every call, compared to Bendigo Bank with two layers and an average of 0:36 minutes to navigate the options on every call.
Talk times (the time talking to a customer service agent) varied between the banks with Bendigo Bank the shortest (02:12 minutes) through to CBA (08:20 minutes).
Average Wait Time
Banks Average
Average Wait Time Summary August 2023
On average, across the banking sector, customers were waiting in a queue for 04:42 minutes, with NAB having the lowest wait times (0:24 Minutes).
The second longest average wait time was Bendigo Bank with 06:40 minutes however there were occasions when we were advised their wait times were in excess of one hour, although a call-back service was offered.*
*Calls to ANZ maxed out at 10:00 minutes, the point at which we terminate the calls suggesting wait times were significantly longer.
*We disconnect calls that go beyond a 10-minute wait time, so the actual wait times may be longer. ACXPA Members can see the percentage of calls not answered/exceeding the threshold in the members-only exclusive data.
Exclusive Members-only Insights
Additional member-only insights you'll instantly see include:
Calls Answered Percentage
IVR Navigation Time & Layers
Average Talk Times
Quality scores by each of the five different competencies
The scores for the four behaviours of the 'Engage' Quality Competency
Accessibility scores by each of the five different competencies
Access to all previous month's data
Monthly Trend Results
ACXPA Business Memberships start from just $497 per year and are packed with value!
You'll gain access to leading industry insights, live symposiums and workshops with leading contact centre experts, a library of expert videos on contact centres and CX best practices you can watch on demand, a range of downloadable resources, discounts to expert training courses, networking events and lots more.
, thanks for being an ACXPA Member – you can view and download the report below!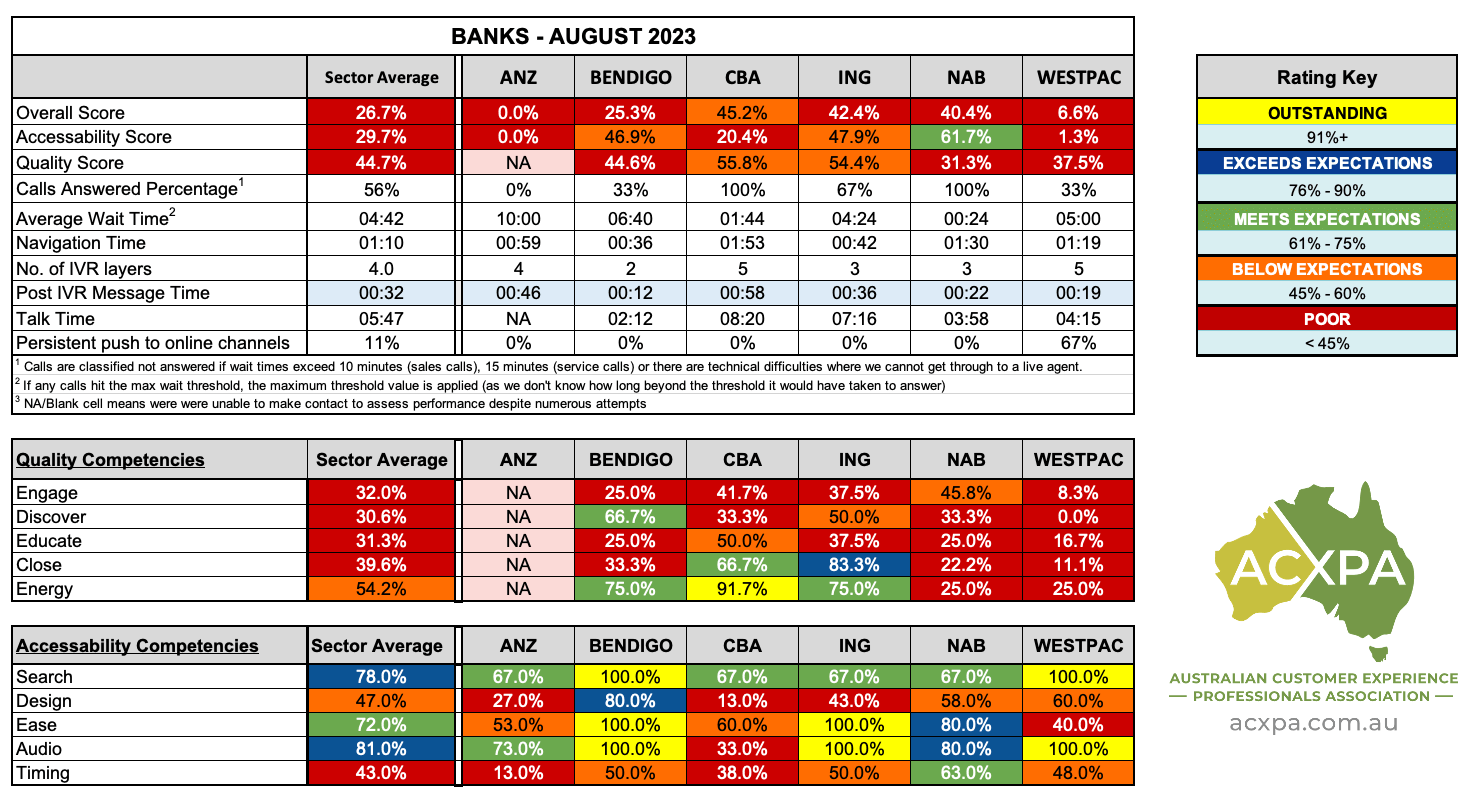 What type of scenarios do we use to conduct the Mystery Shopping calls?
We use enquiries that are general in nature that don't require us to disclose personal information.
How does the scoring work?
Over the past 30 years we've developed standards based on consumer preferences and the metrics that matter – the ones that can influence the customer experience. You can learn more about the framework we use here >
How many calls are assessed?
For the public monthly report, we include at least three calls per Bank – as more Banks sign up for the service, more calls will be included.
When you sign your Bank up for the Contact Centre CX Benchmarking service, you will receive a minimum of six calls assessed for every Bank included. If you'd rather have a larger sample size, please refer to our customised Benchmarking service >
How can we improve our score?
Our Mystery Shopping program has been designed to provide Banks with the insights they need to improve performance! You'll receive detailed information on your performance against over 48 individual elements so you know exactly where to focus, and we also include a quarterly report that provides you with personalised key recommendations on areas to focus on.
We also offer a range of training courses that can help teach your frontline employees the skills they need to deliver great customer service (Customer Service Phone 'Essentials' & 'Professional'), as well as training courses for your Team Leaders/Managers so they know how to coach effectively using the Quality Framework to improve your performance (and scores!).
How do I get my contact centre included?
We have a fixed-price service starting from $1,297 per month that will provide you with information on your Bank, as well as a benchmark of your performance against a minimum of five other Banks that you can nominate. Learn more >
How do I order the service?
We have an online ordering form that makes it easy to order the service, nominate the Banks you'd like to benchmark against, who you'd like the reports to be sent to etc. View the online order form >
How do I access the data for Banks?
ACXPA Business Members get full access to the summary monthly data for Banks (and other sectors) along with a host of other benefits which contains the data for four random Banks each month.
An ACXPA Business Membership starts from just $497 per year and includes five individual memberships you can allocate to key employees who could benefit from gaining access to leading industry insights for contact centres, customer experience (CX), digital service, and in-person customer service.
If you sign your Bank up to the Contact Centre CX Benchmarking Service, you will gain access to ALL data from ALL Banks.
Is there someone I can speak to to learn more?
Absolutely! If you'd like to speak to someone further about the Benchmarking Service, please get in touch with our General Manager of Quality Insights, Simon Blair – 0407 002 113 or [email protected]
What type of scenarios do we use to conduct the Mystery Shopping calls?
Questions about credit cards, home loans, savings accounts, term deposits etc – most of our scenarios are about new business opportunities for the Banks that don't require us to disclose personal information.
Do the Banks really care about the service they provide?
We'd really like to say yes as it's a highly competitive marketplace and research consistently shows that when customers aren't happy, it's bad for business.
But sometimes whether it's through a lack of resources or skills, the customer experience that is delivered is well below expectations.
When banks focus on delivering a better customer experience, not only is it good for you, but it also helps make them more profitable so everyone wins.
How do I get my Bank included?
We encourage you to contact your Bank and ask them to ensure they are included. Just send them a link to this page!
Why does ACXPA publish results each month?
Our mission is to improve the level of customer experience in Australia so by publishing the results monthly, we'll continue to ensure that Banks are accountable for the level of customer service they are providing.
What type of services does ACXPA offer?
In addition to the Mystery Shopping CX Benchmarking, we offer a range of services and resources for people working in contact centres, customer experience (CX), digital service and in-person customer service/retail. You can learn more about us here >
How to gain exclusive results for your Bank
If you'd like to gain insights specifically for your Bank's contact centre performance, and benchmark your results against other banks, we've got a new, cost-effective, fixed-price benchmarking service that makes it easy!
Starting from just $1,297 per month, by signing up for our Contact Centre CX Benchmarking Service, you'll receive the following:
Six Mystery Shopping calls into your call centre each month at random times and days.
Six Mystery Shopping calls each into five other Banks (a total of 30 calls) that YOU nominate plus the data from all the other Banks who have signed up for the service providing you with banking sector-wide benchmarking information.
For your own six calls, you'll receive additional insights including the employee's name, our quality assessor's notes, the call recording and a rating on each of the 18 quality behaviours.
A monthly email with data to track your performance along with the call recordings.
A quarterly report containing insights and trends that are easy to understand, along with actionable recommendations to help improve your performance.
An optional Quarterly Insights workshop (conducted live via Zoom) that can provide additional insights, coaching and guidance.