As well as the Call Centre Ranking results below, ACXPA Members also have access to a range of additional insights, including all the monthly reports, trend data, additional performance metrics, a downloadable spreadsheet and lots more!
Internet Providers September 2023 Call Centre Rankings
Following on from our first Internet Providers Call Centre Rankings Report in August 2023, September 2023 results revealed a decline in overall results (-2.4%), primarily led by a decline by Telstra (-28.4%) and Optus (-9.5%). Dodo had the largest improvement of the Internet Providers from the August results (+11.5%).
You can read more about the assessment criteria and methodology here, but the quick version is we make random calls to Internet Providers and assess both accessibility (how easy it was to connect) and the customer service/quality of the interaction when speaking to a live agent.
Key findings from the Internet Providers September 2023 Call Centre Rankings:
Average wait times for the internet sector increased substantially for the sector (up from 00:51 minutes to 02:07 minutes), with a significant increase in wait times for Telstra (01:32 to 07:03). iiNet had the best results with an average wait time of 00:08 minutes.
The quality of the interactions across the sector declined slightly (-0.5%) and is still rated as 'Below Standard' when assessed against our Australian Contact Centre Quality Standards. iiNet was the top performer (69.9%) with Telstra rated the lowest (32.7%).
The Internet Providers sector was the only industry sector to answer 100% of all the mystery shopping calls made within 10 minutes in August 2023, however, with both Optus and Telstra only answering 67% of the calls we made, the industry average result dropped to 88.9%.
Telstra continued to have the most IVR menu options (average of 2.7) and across the sector it took customers, on average, 00:22 minutes to navigate through the various options before being placed in the queue.
Of the five competencies we use to assess quality, the 'Engage' competency was ranked the lowest of all quality competencies across the providers (41.0%), with 'Discover' ranked the highest at 64.8%.
Aussie Broadband was the only provider to achieve a ranking of 'Outstanding' (above a 91% score) for their 'Energy' competency which measures behaviours such as Vibrancy, Empathy, Control and Delivery (learn more here).
After observing Telstra trying to push 33% of the customers to online channels while on hold last month, this month we did not observe any providers attempt to shift customers to another channel.
Talk times varied considerably between the providers from 04:27 (Aussie Broadband) to 14:18 (iiNet).
Internet Providers September 2023 Key Results
The summary data for the September 2023 Australian Internet Providers call centre performance is below.
Average Score
Internet Providers
#1 Ranked Call Centre
iiNet
Lowest Ranked Call Centre
Telstra
Average Score
Internet Providers
Quality Summary September 2023
The quality of the customer interactions across the Internet Providers was rated as 'Below Standards' for the second consecutive month with a score of 55.2% (-0.5% from August 2023).
The lead performer for quality was iiNet (68.9%) followed by Aussie Broadband (63.3%) with Telstra (32.7%) rated the lowest.
Key Results across all quality metrics:

Engage (41.0%) – The lead performer was iiNet (66.7%), and the lowest rated was Telstra (12.5%).
Discover (64.8%) – The lead performer was Dodo and iiNet (77.8%), and the lowest rated was Optus (33.3%)
Educate (59.7%) – The lead performer was tied betweeb iiNet, Aussie Broadband amd Dodo (66.7%), and the lowest rated was Telstra (37.5%)
Close (46.3%) – The lead performer was iiNet (77.8%), and the lowest rated was Telstra (16.7%)
Energy (62.5%) – The lead performer was Aussie Broadband (91.7%), and the lowest rated was Telstra (50.0%)
Average Score
Internet Providers
Accessibility Summary September 2023
Of all the Internet Providers we assessed, iiNet had the highest accessibility score (93.3%) with Telstra the most difficult to access (31.2%), primaraly as a result of their long wait times.
The Average Wait Time across all providers was 02:07 minutes, an increase of 147% from the previous month (00:51 minutes) with iiNet the quickest (00:08 minutes) and Telstra the longest (07:03 minutes).
For the first time, not all calls were answered within the 10-minute threshold with both Optus and Telstra failing to answer 33% of the calls.
The majority of internet providers kept their IVR menus short, taking customers, on average, 00:22 minutes to navigate through the various options before being placed in the queue (down from 00:31 minutes last month). Telstra's took the longest to navigate (00:39 minutes) with Dodo's the quickest 00:14 minutes).
Optus and Telstra were the only providers using Speech IVRs as opposed to the regular push button IVR.
Telstra's IVR repeated options for customers on 67% of the calls we made.
66% of the providers used a single voiceover artist.
Average Wait Time
Internet Providers
Longest Wait Time*
Telstra
*We disconnect calls that go beyond a 10-minute wait time, so the actual wait times may be longer. ACXPA Members can see the percentage of calls not answered/exceeding the threshold in the members-only exclusive data.
Please also note that contact centres often have different queues for different services or functions (i.e. Sales or Service/New or Existing customers) and the experience can be different for each queue.
Exclusive Members-only Insights
You need an ACXPA Membership to see this exclusive data!
ACXPA Members gain instant access to additional Internet sector data including the detailed data for four random Internet providers each month for you to benchmark against, previous monthly reports and a range of additional ACXPA Membership benefits to ensure you have the leading insights, best-practice tips and more to help you succeed.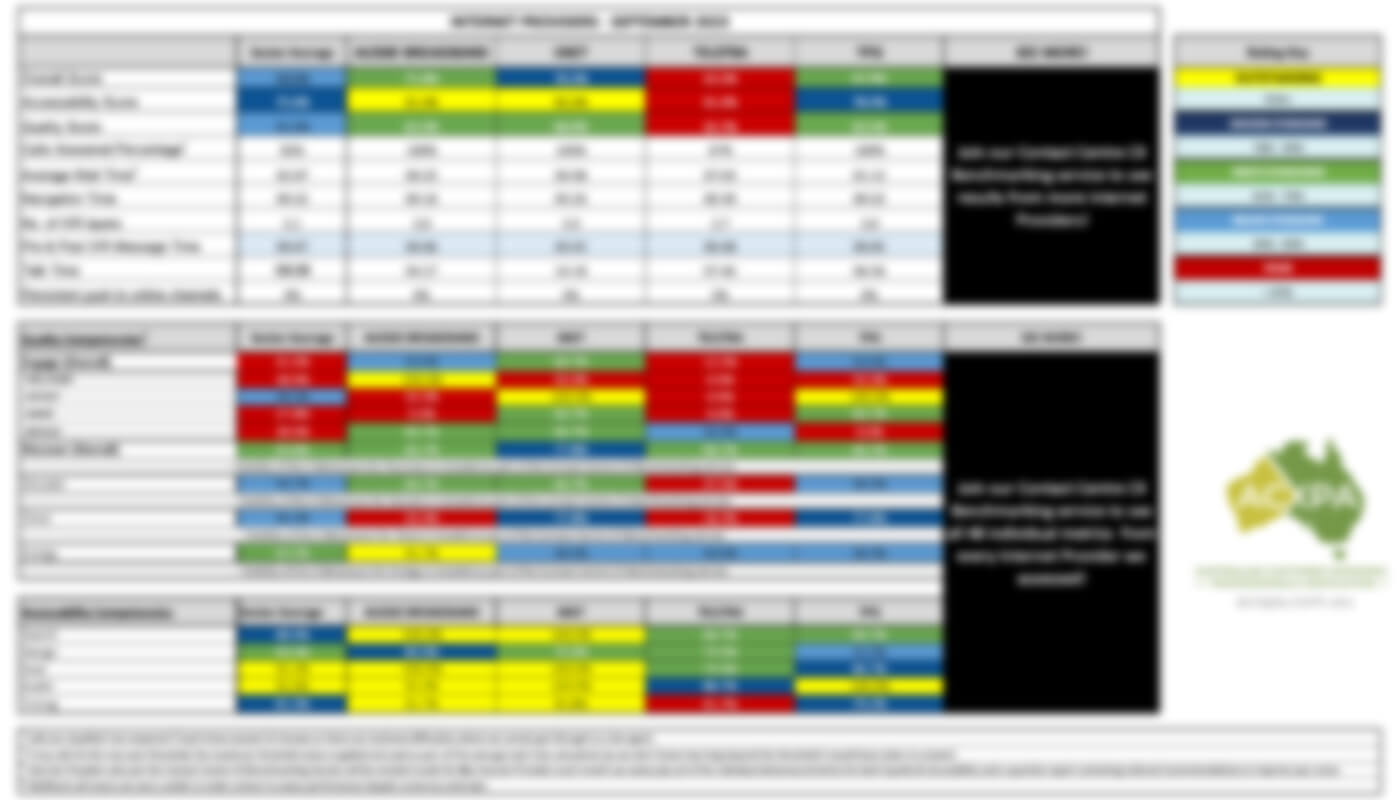 Additional member-only insights you'll instantly see include:
Calls Answered Percentage
IVR Navigation Time & Layers
Average Talk Times
Quality scores by each of the five different competencies
The scores for the four behaviours of the 'Engage' Quality Competency
Accessibility scores by each of the five different competencies
Access to all previous month's data
Monthly Trend Results
ACXPA Business Memberships start from just $497 per year and are packed with value!
You'll gain access to leading industry insights every month, live symposiums and workshops with leading contact centre experts, a library of expert videos on contact centres and CX best practices you can watch on demand, a range of downloadable resources, discounts to expert training courses, networking events and lots more.
, thanks for being an ACXPA Member – you can view and download the report below!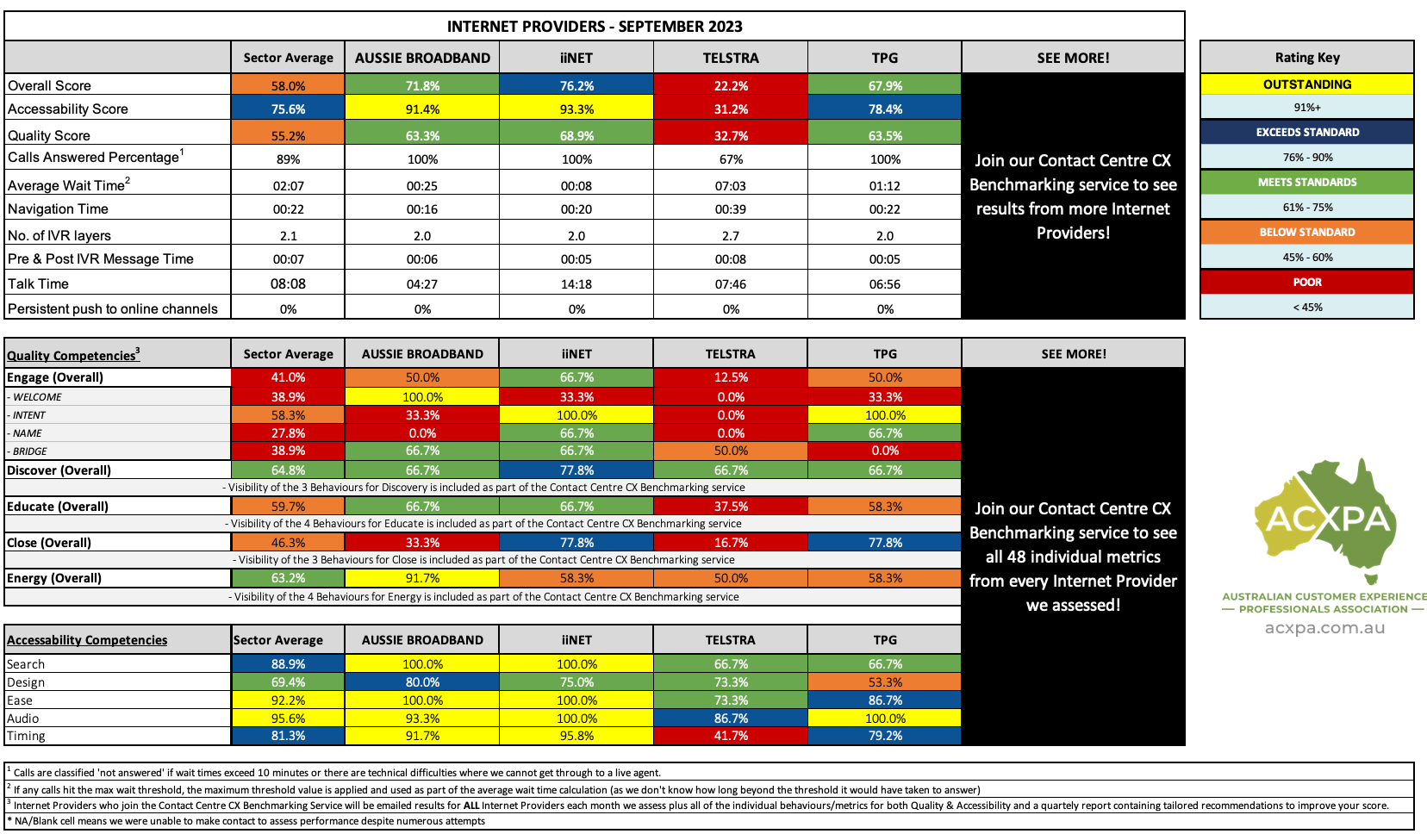 What type of scenarios do we use to conduct the Mystery Shopping calls?
The scenarios we use are typically based on new sales opportunities (i.e. customers looking to purchase a new internet connection or move from another provider)
How does the scoring work?
You can learn more about the framework we use here >
How many calls are assessed?
For the public monthly report, we include at least three calls per Internet Provider – our paid service includes a minimum of six calls.
When you sign up for the CX Contact Centre Benchmarking service, you will receive at least six calls for your business along with every other Internet Provider included in the report. If you'd rather have a larger sample size, please refer to our customised Benchmarking service >
Why aren't all the Internet Providers included?
We'd love to have all the Internet Providers included; however, conducting independent Mystery Shopping is expensive! We randomly chose a few Internet Providers to commence our program with and as (or if) other Internet Providers sign up to our CX Contact Centre Benchmarking program, we'll be able to publish a larger sample size each month.
How can we improve our score?
Our Mystery Shopping program has been designed to provide Internet Providers with the insights they need to improve performance!
When you sign up to our CX Contact Centre Benchmarking service, you'll receive detailed information on your performance against over 48 individual elements, so you know exactly where to focus, and we also include a quarterly report that provides you with personalised key recommendations on areas to focus on.
We also offer a range of training courses that can help teach your frontline employees the skills they need to deliver great customer service or improve sales:
How do I get my contact centre included?
We have a fixed-price service starting from $1,297 per month that will provide you with information on your contact centre, as well as a benchmark of your performance against a minimum of five other Internet Providers that you can nominate. Learn more >
How do I order the service?
We have an online ordering form that makes it easy to order the service, nominate the Internet Providers you'd like to benchmark against, who you'd like the reports to be sent to etc. View the online order form >
How do I access the full data for the Internet Providers?
ACXPA Business Members get full access to the summary monthly data for Internet Providers (and other sectors) along with a host of other membership benefits.
An ACXPA Business Membership starts from just $497 per year and includes five individual memberships you can allocate to key employees who could benefit from gaining access to leading industry insights for contact centres, customer experience (CX), digital service, and in-person customer service.
Is there someone I can speak to to learn more?
Absolutely! If you'd like to speak to someone further about the Benchmarking Service, please get in touch with our General Manager of Quality Insights, Simon Blair – 0407 002 113 or [email protected]
What type of scenarios do we use to conduct the Mystery Shopping calls?
Most of our mystery shopping scenarios involve new customer enquiries so a potential sales opportunity for the Internet Provider.
Why do you hang up at either 10 or 15 minutes?
All our Mystery Shopping calls are conducted live by our accredited Mystery Shoppers who are all based in Australia. We cut off the calls at either 10 minutes (sales scenarios) or 15 minutes (service scenarios) for two key reasons:
Research has shown that these are at the end of typical times customers will wait before they hang up.
It's expensive! As we use real human beings to conduct the Mystery Shopping call, it's simply not practical to pay them often for hours (hello Centrelink!) whilst waiting for the call to be answered. So unless we get a very generous sponsor that enables us to wait the full time, we thought this was a reasonable decision.
Do Internet Providers really care about the service they provide?
As a competitive marketplace, it means there are various commercial approaches. As a commoditised product (it's typically the same internet when you switch on the computer no matter which Intenet Retailer you purchase it from!), price is, of course, an important consideration.
But smart Internet Provider Retailers are also realising that providing a good customer experience can be a competitive advantage. But sometimes, whether it's through a lack of resources or skills, or a strategic choice, the Contact Centre experience that is delivered is well below industry standards.
If, for example, an Australian Internet Provider chooses to under-resource the contact centre, or use offshore call centres, and can pass those savings onto you in the form of cheaper internet plans, that may be acceptable to some consumers who are happy to forgo some service to receive cheaper prices.
We don't get involved in the strategy of each business, we simply report on the data against industry standards.
We do, however, believe that delivering a better customer experience is not only is it good for you as a consumer, but it's also good for the business as all of the latest CX statistics will confirm.
Why does ACXPA publish results each month?
Our mission is to improve the level of customer experience in Australia so by publishing the results monthly, we'll continue to ensure that Internet Providers are accountable for the level of customer service they are providing and to enable consumers to make an informed choice.
What type of services does ACXPA offer?
In addition to the Mystery Shopping CX Benchmarking, we offer a range of services and resources for people working in contact centres, customer experience (CX), digital service and in-person customer service/retail. You can learn more about us here >
How to gain exclusive insights for your Internet Business
If you'd like to gain insights specifically for your contact centre performance, and benchmark your results against other Internet Providers, we've got a new, cost-effective, fixed-price benchmarking service that makes it easy!
Starting from just $1,297 per month, by signing up for our Contact Centre CX Benchmarking Service, you'll receive the following:
Six Mystery Shopping calls into your call centre each month at random times and days where you'll receive the full assessment against 48 metrics, our quality assessor's notes, the employee's name (where provided) and the full call recordings.
Six Mystery Shopping calls each into five other Internet Providers (a total of 30 calls) that YOU nominate so you can benchmark your performance against other Internet Providers that matter the most to you.
Aggregate data from all the other Internet Providers we assess providing you with industry sector-wide results to further compare your results to.
A monthly email with data to track your performance along with the call recordings.
A quarterly report containing insights and trends that are easy to understand, along with actionable recommendations to help improve your performance.
An optional Quarterly Insights workshop for your team (conducted live via Zoom) that can provide additional insights, coaching and guidance.
Access to training to help you improve results.